Taco Bell Is Releasing Buffalo Chicken Nacho Fries
January 23, 2020 11:16AM EST
 Taco Bell's Nacho Fries are due to make their triumphant return any day now, but the chain teased an "all-new flavor innovation" that would knock our socks off. And now we know what it is…and what it is…is buffalo chicken.
That's right, Buffalo Chicken Nacho Fries will be making their way to a Taco Bell near you at the end of the month.
The creation is made with classic Nacho Fries that come topped with shredded chicken, shredded cheese, Nacho Cheese sauce, pico de gallo, sour cream, and tangy buffalo sauce (a brand-new Taco Bell Sauce)!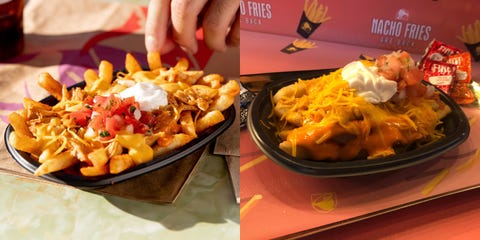 Classic Nacho Fries, as well as the new Buffalo Chicken Fries, will be available for a limited time at Taco Bell locations nationwide beginning January 30.
View this post on Instagram
More about:
---